Last Updated: March 09, 2023, 12:13 IST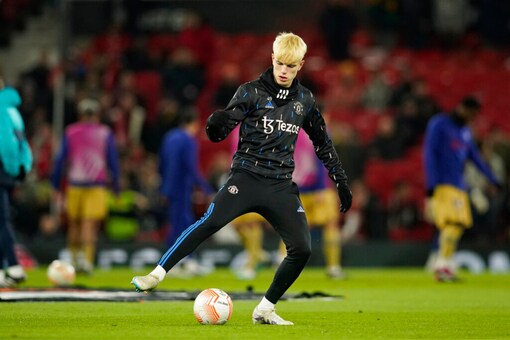 Manchester United star Alejandro Garhancho (AP)
Alejandro Garhancho had seemingly taken a shot at Barcelona after Manchester United's win in the Europa League
Alejandro Garhancho was brutally slammed by Colon head coach Pipo Gorosito for mocking Barcelona on social media after the Spanish giant's disappointing exit from the UEFA Europa League. Manchester United knocked the Blaugrana out of the tournament by beating them by an aggregate of 4-3 in the two-leg Round of 16 playoffs. Following the result, United winger Garhancho shared a cryptic post on Twitter, taking a dig at Barca and their star midfielder Pedri. He uploaded a photo of himself, in which he could be spotted imitating Pedri's iconic Binoculars celebration. Sharing the picture, Garhancho captioned, "The big team goes through."
Alejandro Garhancho's tweet garnered significant traction from United fans as well as Real Madrid supporters. The youngster is known to be an admirer of Los Blancos and the Europa League tie was his first face-off against Barcelona in senior football. Hence, the youngster's reaction was not quite unexpected.
Grahancho's post did not go down well with Pipo Gorosito, who found the gesture disrespectful, as reported by Sport. The Argentine manager lashed out at the youngster, saying that he would "hit him with an open hand on the neck" to teach him a lesson. Taking the footballer's age into account, Gorosito explained, "You need to show him what is good and bad. He is going to make mistakes because he is only 8 years old. That's when he has to do it as it's part of life. If he was one of my children, I would hit him with an open hand on the neck. That's the way I think."
Alejandro Garhancho has just earned his maiden international call-up for Argentina. The 18-year-old is likely to make his national debut in the upcoming friendlies against Panama and Curacao. Garnacho has improved steadily for the Red Devils in 2023 and his goal against Leeds showed that he is quite capable of dealing with difficult situations.
The young footballer is getting closer to his former teammate Cristiano Ronaldo's early career with each passing week. Comparisons between the two players have been brought out ever since the Argentine mimicked Ronaldo's famous "SIU" celebration during the FA Youth Cup the previous year.
The profile of Ronaldo, who came to Manchester at the age of 18, was similar to that of Garnacho, who made his debut for Manchester United at the same age. The fact that Garnacho has only scored two Premier League goals this season makes it evident that he has a long way to go before being considered a legitimate heir to Ronaldo's legacy at Old Trafford. Even so, Garnacho is now matching Ronaldo's debut season in Manchester in terms of statistics, with both players averaging slightly more than 0.1 goals and 0.1 assists per Premier League game.
Read all the Latest Sports News here