Last Updated: March 09, 2023, 07:56 IST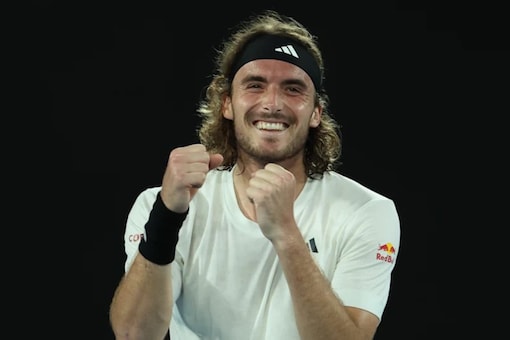 Tennis star Stefanos Tsitsipas (Twitter)
Stefanos Tsitsipas downplayed his expectations for the Indian Wells ATP Masters, saying he's still battling the shoulder injury that saw him pull out of Acapulco last month
World number three Stefanos Tsitsipas said he does not expect to put up much of a fight at Indian Wells or the Miami Open as he continues to nurse a shoulder injury he suffered earlier in the year.
"I am still in recovery and I won't be pretending… that I have chances of doing well in these next two tournaments, because that would be wrong," he said bluntly at a press conference on Wednesday.
"I haven't said it a lot of times in my career but I don't think I will be capable of going deep. The main priority is getting my body ready and fixed for the clay court swing."
Asked why he did not simply withdraw from the Masters 1000 events at Indian Wells and the Miami Open, which together comprise the "Sunshine Double," he said he felt compelled to compete.
"I made a deal with myself that I will not be skipping the next two events," he said.
The 24-year-old Greek started the year on a high when he reached his first Australian Open final in January but said he had injured the shoulder soon after leaving Melbourne.
The injury, which forced him to withdraw from the tournament in Acapulco last month, was the result of the impact the shoulder had suffered amid non-stop play over the past few years, he said.
"I need to take my time and have the right medical team by my side to help me recover to the fullest and not have complications like this in the future," he said.
"When you are dealing with situations like this, the only thing you wish to yourself is to have a career that's healthy, where you can go out on the court and give it your all without any repercussions.
"We've seen it with some champions like Rafa Nadal who have been struggling with injuries for a long time but are still able to play at a pretty good level."
The second-seeded Tsitsipas will play his first match of the tournament on Friday.
Tsitsipas, seeded second behind world number two Carlos Alcaraz — with Djokovic still barred from the United States because of his decision not to be vaccinated against Covid-19 — has a first-round bye and is scheduled to open his campaign against either French veteran Gael Monfils or Australian Jordan Thompson — who play Wednesday night.
Monfils, 36, is returning to action seven months after he retired from a match in Montreal with a foot injury that turned out to be a plantar fascia rupture.
It will also be Monfils' first tournament since he and his wife, WTA player Elina Svitolina, welcomed the birth of daughter, Skai, in October.
(With inputs from Agencies)
Read all the Latest Sports News here