Last Updated: March 10, 2023, 08:09 IST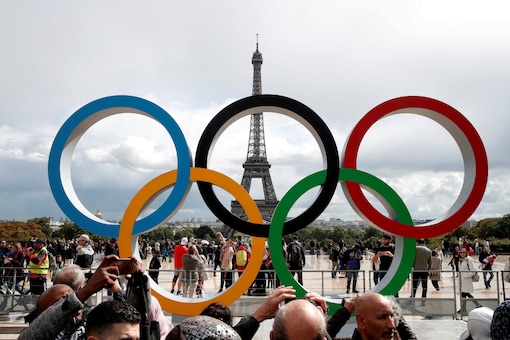 Olympics rings in Paris (Reuters)
The International Olympic Committee is facing a mounting backlash after setting out a path last month for Russian and Belarusian athletes to qualify for the Olympics and to compete as neutrals, with no flags or anthems
The Canadian Olympic Committee (COC) said it supports a ban on athletes from Russia and Belarus competing in the 2024 Paris Summer Games so long as the invasion of Ukraine continues, challenging a call from a group of retired Olympians to end support for their participation.
The group, which included many of Canada's greatest Olympians such as ice dancer Tessa Virtue, hockey player Hayley Wickenheiser and cross-country skier Beckie Scott, voiced their concerns in a letter to the COC and on Wednesday in a segment on CBC, the country's national broadcaster.
"Several prominent athletes are calling on the Canadian Olympic Committee to support a ban of athletes from Russia and Belarus competing in Paris 2024 while the invasion is ongoing," the COC said in a statement on Thursday.
"Our position, consistent over the past year, is that we support the exclusion of Russian and Belarusian athletes from international sport while the invasion is ongoing."
The International Olympic Committee (IOC) is facing a mounting backlash after setting out a path last month for Russian and Belarusian athletes to qualify for the Olympics and to compete as neutrals, with no flags or anthems.
Athletes from those countries were banned from many international competitions after Russia launched what it calls its "special military operation" in Ukraine last year, but some international federations are now allowing them back following the IOC guidance.
Canada was among 35 countries that released a joint statement in February calling on the IOC to clarify the definition of "neutrality" and pledging their support for banning Russians and Belarusians from international competitions.
"We firmly believe that, given there has been no change in the situation regarding the Russian aggression in Ukraine, and as an imperative for fairness and solidarity towards the Ukrainian athletes whose facilities have been destroyed and who have had to leave their country … there is no practical reason to move away from the exclusion regime for Russian and Belarusian athletes set by the IOC in their statement of 28 February 2022," said the statement signed by Canada and 34 other countries.
"We have strong concerns on how feasible it is for Russian and Belarusian Olympic athletes to compete as 'neutrals' – under the IOC's conditions of no identification with their country – when they are directly funded and supported by their states (unlike, for example, professional tennis players)."
The COC offered to host a special meeting with the COC Board of Directors and the athlete signatories of the letter but have been repeatedly turned down.
Read all the Latest Sports News here
(This story has not been edited by News18 staff and is published from a syndicated news agency feed)