Last Updated: March 10, 2023, 11:55 IST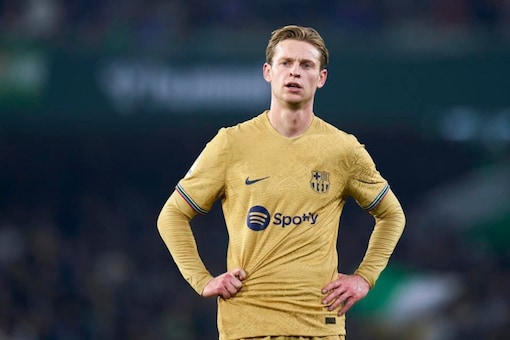 Frankie de Jong at Barcelona (Twitter)
Frankie de Jong said that he is happy to be at Barcelona and wants to stay with the La Liga side for the near future
Frankie de Jong has rubbished rumours about his potential move to Manchester United in the coming summer. The Dutch midfielder has made his intention clear, saying that he is "happy" at Barcelona and has no plan to shift his base to England in near future. United was keen to sign de Jong last summer but the footballer's existing contract with the Spanish club did not let that happen. The former Ajax boy stayed at Nou Camp and has eventually built his stature as one.
De Jong will remain with Barcelona until the summer of 2026. Although looking at the club's financial situation in recent times, they may attempt to part ways with him at the end of the season. Even so, the 25-year-old seems to have concluded all the debates over his potential move to the Premier League.
"I am very happy here and I want to continue for many years at Barca. I have always dreamt of playing for Barca and I want to succeed here only. I am very happy and comfortable participating more in the game. Last summer I was fine and calm because I knew I wanted to continue at Barca and still I haven't changed my mind," De Jong said to RAC-1, as quoted by Sports.
De Jong referred to Barcelona's head coach Xavi's contribution to his recent improvements as he acknowledged, "With Xavi, I have to continue and improve because each player has room to do so. Xavi helps me a lot, and all the coaches have helped me in some way." The midfielder also looked hopeful of the club winning La Liga this year, ending their four-year-long wait. "I have never won the League. It is my fourth year here and it is the closest I have been. Winning the title makes me very excited and it's the main goal this year," De Jong noted.
De Jong is a key component of Xavi's set-up at Barcelona, who are presently leading the La Liga table with 62 points in 24 games. In his 22 league appearances this season, the Dutch international has scored two goals, while providing one assist. He was part of the Barca squad that was knocked out of the UEFA Europa League last month by the hands of Manchester United.
Ahead of the second leg at Old Trafford, United legend Paul Scholes backed Ten Hag's decision to go for De Jong as he told BT Sports, "You would love to see Frenkie de Jong play at Old Trafford. A fantastic footballer, he can dribble and I think United fans will be looking out for him today."
Read all the Latest Sports News here