Last Updated: March 11, 2023, 12:46 IST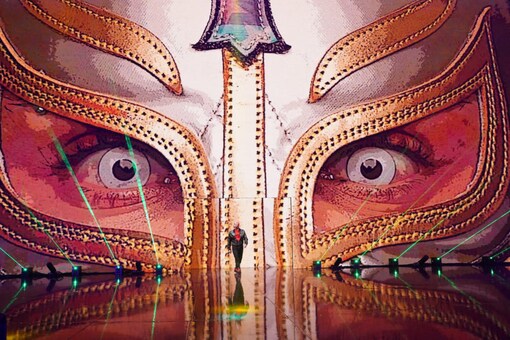 Rey Mysterio maks his entrace (WWE)
Rey Mysterio was announced as the first inductee into the WWE Hall of Fame Class of 2023
The latest edition of the WWE SmackDown had a major announcement for fans and followers of the game. Legendary wrestler Rey Mysterio is all set to be immortalised by WWE. The 48-year-old will be inducted into the WWE Hall of Fame this year. The 2023 WWE induction event will take place on March 30 in Los Angeles, a day before the much-awaited WrestleMania 39. Rey, with his high-flying action and sheer athleticism, emerged as one of the finest wrestlers over the years in the history of WWE. He played a key role in making the Mexican lucha libre style of wrestling famous in the United States. Rey has now been revealed as the first confirmed Hall of Fame inductee of the year. The official Twitter handle of WWE also shared the major update on Saturday, March 11.
The news of Rey Mysterio's induction spread like wildfire as innumerable WWE fans expressed their love and admiration for the Master of 619.
Here are some reactions.
One Twitter user opined that he felt privileged to have witnessed Rey Mysterio's wrestling. "I'm privileged to have gotten a chance to watch him and his entire career from the very beginning until now. Absolutely well-deserved. To anyone that says otherwise, no, it doesn't matter that he's still an active competitor. Stop being petty," the Tweet read.
Another social media user voiced a similar opinion and commented, "I will forever an always be grateful to see my childhood favorite wrestler I loved, Rey, growing up always. 'it's not about the size of the dog in the fight it's about the size of the fight in the dog' well deserved by far Rey.'"
A certain person branded Rey Mysterio as his favourite WWE superstar. "I'm so happy. Rey Mysterio has been my favorite WWE superstar since his debut. I remember his first match on WWE television. Rey mysterio made his debut against Chavo Guerrero. Well deserved," the comment read.
"The biggest underdog. Congratulations Rey! All-time favourite," commented another Twitter user.
Rey Mysterio had shot to prominence back in the 1990s after winning the WCW cruiserweight title multiple times. Mysterio had made his WWE debut in 2003 during a SmackDown match against Chavo Guerrero. Rey has been a former WWE champion and he also became world heavyweight champion twice. He had also won the WWE Royal Rumble in 2006.
Read all the Latest Sports News here