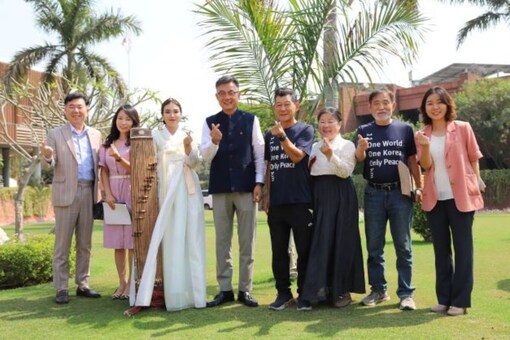 South Korean Marathoner Kang Myung-Koo (IANS)
Kang has been running through Cambodia, Thailand, and Bangladesh and entered India from Kolkata early this month. The South Korean has been running a marathon for World Peace since October 1, 2022
Kang Myung-Koo, a 65-year-old marathoner from the Republic of South Korea, has been running a marathon for World Peace since October 1, 2022, and is currently in India to further strengthen relations between India and Korea.
Kang has been running through Cambodia, Thailand, and Bangladesh and has entered India from Kolkata early this month.
ALSO READ| Meet Saraswathi Anand: India and Network18's Champion 42-year-old Powerlifter
"During my run in various states in India, I got tremendous support and has further encouraged me in my mission of promoting world peace and unity. People in India are helpful, extend great hospitality and are spiritual. One gets the feeling of one world," said beaming Kang Myung-Koo.
On his mission, Kang will cross 19 countries from Southeast Asia, the Middle East, and Europe. His travel plan includes countries from Cambodia, Thailand, Bangladesh, India, Iran, Iraq, Turkey, Greece, North Macedonia, Kosovo, Montenegro, Bosnia and Herzegovina, Croatia, Slovenia, and finally Italy.
"Korea is India's most important trading partner in Asia and our countries share a strategic partnership, visit of Kang will further help improve our professional and cultural bond with Korea and further strengthen our ties in the areas of sports, education and culture. It will also help support global harmony" said Jagdip Singh, Consul General, Republic of Korea.
Read all the Latest Sports News here
(This story has not been edited by News18 staff and is published from a syndicated news agency feed)