Last Updated: March 13, 2023, 15:16 IST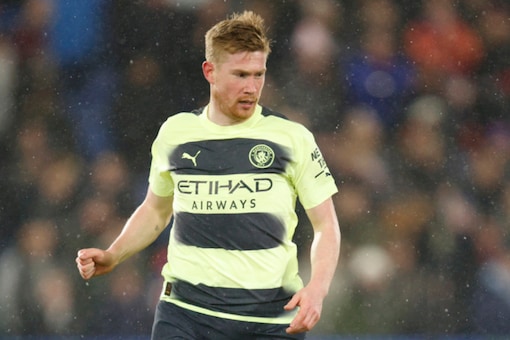 Manchester City star Kevin De Bruyne (AP)
Manchester City's Kevin De Bruyne feel that there are higher expectations of him compared to other players in the Premier League
Kevin De Bruyne hasn't been in the best of form for Manchester City lately. The Belgian midfielder, Manchester City's talisman for many years, has failed to cement his place in Pep Guardiola's starting XI in the last few months, having started in just five of City's last nine games. De Bruyne's woes have been compounded due to injury and illness. But the 31-year-old is happy with his game and believes that there are higher expectations on him compared to other players in the Premier League.
According to a report by the Manchester Evening News, De Bruyne has downplayed concerns over his form and pointed to his impressive numbers in assists, chances created and big chances created.
"Obviously, people have a different standard for me to a lot of players. It is what it is. People expect me to score every game and assist every game. I think I've been playing quite well. Maybe there have been fewer assists but I don't think I've been creating less. I don't really look at these things. I think I'm playing alright – maybe not the best I have ever played but it's good. You know the stats – I have created the most in the league and have the most assists and I have not even played four or five games. I have been doing the same thing for eight years here and 15 years in professional football so I'm feeling fine," Kevin De Bruyne was quoted as saying by the Manchester Evening News.
Kevin De Bruyne further suggested that he gives his best every time he steps on the field. Like his teammate Erling Haaland, De Bruyne has set the the bar high for goalscoring. But it is clear that he has lost his rhythm since the 2022 FIFA World Cup. De Bruyne came off the bench in the Premier League fixture against Crystal Palace last week. City eventually won that match 1-0, courtesy of Haaland's goal from the spot. Manchester City are currently at the second place on the Premier League points table and will be aiming to displace Arsenal from the top spot. However, De Bruyne needs to find his A game if City are to win their ninth league title.
Read all the Latest Sports News here