NEW DELHI: Investcorp Holdings BSC, the Middle East's biggest alternative asset manager, is doubling down on warehouse investments in India, betting the nation's manufacturing ambitions and e-commerce boom will fuel demand for logistics.
Warehousing currently accounts for almost 16% of the Bahrain-based firm's $350 million real estate portfolio in India, and it's planning to boost that share in the coming year, according to Ritesh Vohra, the firm's real estate head in the nation.
"Warehouses could end up being our biggest strategy in Indian real estate," he said in an interview.
Investcorp joins a flood of international capital investing in a sector that's been buoyed by the government's plan to transform India into a manufacturing hub, and a steady rise in online shopping on platforms such as Walmart Inc.'s Flipkart and Amazon.com Inc.
"Institutional capital is flowing in," said Vohra. "Warehousing is where office space was 7-8 years ago."
The company, whose Indian real estate portfolio is currently dominated by residential property, last year deployed $55 million to back Chennai-based developer NDR Warehousing Pvt. Ltd. That helped grow NDR's stock of warehousing space to 14 million square feet from 9 million square feet.
Private equity investment in Indian warehousing climbed 45% to $1.9 billion in 2022 from the prior year, when funding for all other real estate classes declined amid a global economic slowdown, according to a report by international property consultant Knight Frank.
That momentum is seen continuing in 2023.
"We are expecting record investments for warehousing this year," said Vivek Rathi, director of research for Knight Frank India. "So many global investors are enquiring about these assets."
Joining the push is US-based Panattoni Development Co. LLC, which is the biggest logistics developer in Europe. The company is betting on India for its entry into Asia, with a plan to invest $200 million in four logistics parks in the South Asian country.
According to Sandeep Chanda, Panattoni's manging director for India, global sentiment is shifting from office space to warehouses on lower occupancy rates due to work-from-home culture and pressure on rents.
Amid mounting fears of recession in some developed economies, India is still expected to grow at 7% this fiscal year, making it one of the fastest-growing economies in the world. That makes India a "bright spot," said Chanda.
Manufacturing hub
India is benefiting from a so-called China-plus-one strategy that has made companies around the world diversify their supply chains from the Asian superpower amid geopolitical concerns.
That coincides with Prime Minister Narendra Modi's ambitious plan to turn India into a manufacturing export hub for products from mobile phones to defense equipment, with companies including Apple Inc. and Samsung Electronics Co. ramping up production there.
An online shopping boom in one of the world's fastest-growing e-commerce markets has also been powering demand for logistics space as firms try to speed up delivery times.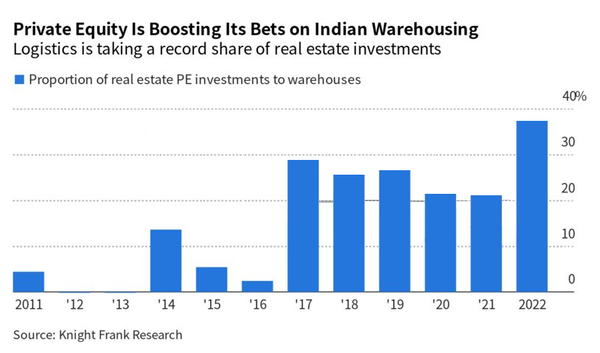 For instance, Blackstone Inc. is building a custom warehouse for Amazon in New Delhi, The Hindu newspaper reported last month. Blackstone owns up to 42 million square feet of warehousing currently, said Tuhin Parikh, the firm's real estate head in India. There was zero investment in these assets before Covid-19.
"Our focus is to build scale fast — whatever it takes to do that," Parikh said in an interview.
Investment challenges
There are challenges for global investors looking to tap into India's growing demand for logistics space. International quality warehousing is scarce, tilting the preference of private equity investors toward green field sites that often come with legal red tape.
Land laws in India are complicated, according to Balbirsingh Khalsa, Knight Frank's executive director of logistics. PE funds also aren't allowed to buy land directly, forcing them to use an intermediary who will transfer rights to develop the area. "It's a long gestation period to acquire approvals for the land," he said by phone.
Meanwhile, Indian beauty firm Nykaa is investing heavily in logistics space, and says it is critical to have hubs within a 200 to 300-kilometer radius of its clients.
"Warehouses take us closer to the customer," Falguni Nayar, the company's chief executive officer, said on an earnings call in February.
Shiprocket, a third-party logistics firm that enables companies to outsource their distribution services, echoed those sentiments. The company plans to double its warehousing space by the end of this year, according to co-founder Gautam Kapoor.
"Our day jobs have become going out and searching for more warehouses," Kapoor said in an interview. "The need for space is huge."