NEW DELHI: Has the volume heavy rural and semi-urban India, home to bulk of the country's population, started to deliver and take the economy forward? The question becomes critical if we look at how the economy seemed to be pacing ahead after Covid lockdowns, but gradually got caught up again in supply shortages and inflationary pressures, amid hardening of retail financing rates.
A conversation with consumer companies, such as Maruti Suzuki, Hero MotoCorp, LG and
Panasonic
reveals that there was a pressure in some quarters when it came to demand for entry level products in rural areas in categories like two-wheelers, appliances and even smartphones/laptops (the last one mainly due to excessive sales during lockdown phase). But, broader business growth has now started to come back in the hinterland, with demand picking up and growing beyond pre-pandemic levels in certain cases.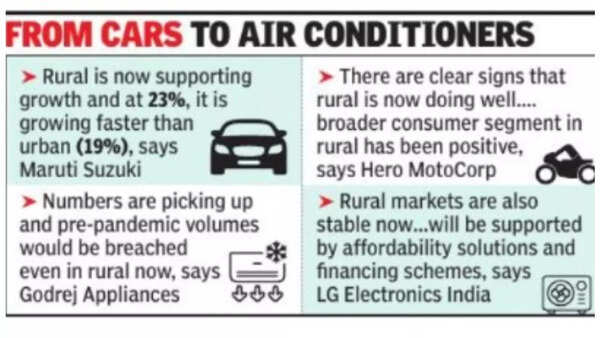 Sales of more feature-rich products — earlier an urban phenomenon — has also percolated to rural, especially due to expansion of financing companies and easier EMI culture. Except for inflation and potential dampeners like impact of El Nino on monsoons and agri production, broader parameters in tier-2 and -3 and rural markets look healthy, says Shashank Srivastava, director (sales and marketing) at Maruti Suzuki. "Rural is now supporting growth and at 23%, it is growing faster than urban, which is growing by 19%," Srivastava said, adding that share of rural in Maruti's overall sales is likely tobe at 44% in this fiscal against 39% in pre-pandemic FY19.
Godrej Appliances business head Kamal Nandi says rural had lagged pre-pandemic levels in many categories of durables such as refrigerators, washing machines, and air-conditioners. "These categories had been growing in rural over the past year, but still lagged the pre-pandemic levels, mainly due to build-up of inflation. However, numbers are picking up and we are confident that pre-pandemic volumes would be breached even in rural now. "
Nandi adds that for durables, rural will see a 10-15% growth in the coming summerseason, while urban is likely to register an over 40% growth.
While rural had been under pressure previously, it has now started to look up, says Ranjivjit Singh, chief growth officer at Hero MotoCorp. "There are clear signs that rural is doing well. The marriage season has been approaching and we also see healthy agri output. Broader consumer segment in rural has been positive and we expect it to contribute strongly as we move into festive period towards the latter half of the year. "
Anuj Ayodhyawasi, VP at LG Electronics India, says while the premium segments and urban had shown strong trends, the rural markets are also stable now. "While urban may still be stronger in growth rates, rural will be supported and enabled by affordability solutions and financing schemes. " "Better road connectivity, digital India, and growth in economic activity has been fuelling (rural) demand when it comes to categories such as ACs," says Alok Tickoo, VP at Lloyd.